Pacific Technical Resources provides experienced personnel to support your Electrical Equipment and System Start-Up, Acceptance Testing and Maintenance needs.
Startup/Acceptance Testing
Acceptance testing is one of the primary factors in prolonging the life of your electrical equipment. We will perform and document all required and requested tests on the following equipment in your substation and/or power generation facility:
Protective Relays Calibration/Testing
Low, Medium & High Voltage Circuit Breakers
High Potential Testing
Power factor Testing
Switchgear Testing
SCADA Equipment
Disconnects
Transformers
Maintenance and Repair
Pacific Technical Resources offers ongoing testing services that can actually extend the life of your system. Based on baseline values gathered during Acceptance Testing, we can develop a program of preventive maintenance that is superior to other conventional services.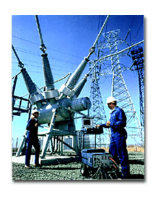 Ground Fault Systems Testing
Standby Generation System Testing
Low and Medium-Voltage circuit breakers
Switchgear
Substation Equipment Testing
Electrical Breaker Repair in our Breaker Shop